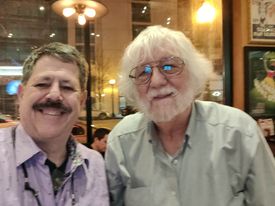 It is truly an incredible honor for DentistryUnited.com to declare Gregory Kurtzman and Paul Feuerstein As the Two Titans Of the Dentistry for the century.
To have these two titans of the dental industry together in one frame is truly a remarkable sight. Both Greg and Paul are exceptional in their respective fields, with Greg being an international speaker, author, and general dentist, and Paul being a technology editor at Dentistry Today and an Adjunct Assistant Professor at Tufts University.
Greg Kurtzman's contributions to the field of dentistry are immeasurable, having published over 800 articles and being a leading authority in dental implants and esthetic dentistry. However, what makes Kurtzman truly stand out is not just his impressive resume, but his humility and dedication to helping others. Despite his numerous accomplishments and accolades, he remains grounded and approachable, always willing to lend a helping hand to fellow dentists.
This willingness to help others is evident in his extensive social media presence, where he regularly shares his expertise and insights with a global audience. Whether he's answering questions, offering advice, or simply sharing his latest research findings, Kurtzman is always focused on helping other dentists improve their practice and provide better care to their patients.
Paul Feuerstein is a great human being whose passion for music and dentistry has made him one of the most respected and innovative thinkers in the field. His commitment to excellence, creativity, and patient care serves as an inspiration to us all, and his work will undoubtedly continue to shape the field of dentistry for many years to come.
Paul Feuerstein's passion has led to numerous innovative breakthroughs in the field of dentistry, including his work with 3M Lava. His expertise in this area has helped countless dentists improve their skills and provide better care to their patients.
To see these two exceptional individuals together in one frame is truly awe-inspiring. It is a testament to the power of collaboration, and a reminder of the incredible impact that two passionate and dedicated individuals can have on a field.
As someone who hopes to join them soon, I am inspired and motivated to continue to work hard and make my own contributions to the field of dentistry. I look forward to learning from these two great dentists and continuing to be inspired by their work for many years to come.
Both are associated with Dental Follicle – The E Journal OF Dentistry For more than a decade and I cherish this relationship with them. Always wish them great success.