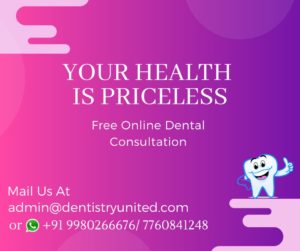 In Giving, That U Shall Truly Receive
The Covid-19/Corona Virus Pandemic has led to a lock-down of many countries. This is an unprecedented situation. As responsible dentists, we @ DentistryUnited would like to lend a helping hand to people suffering from dental pain or any other dental concern.
We are offering online Free Dental consultation/help.
Wherever in the world you live, just e-mail us your concern and we will reply ASAP.
Please add your WhatsApp number for a quick response.
Email : admin@dentistryunited.com
Subject : Dental Pain
Those who would like to Support This Move By DentistryUnited may click this link